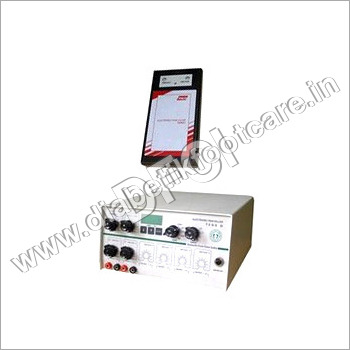 Electronic Pain Killer
Product Description
Electronic Pain Killer

Patrons can avail from us a comprehensive array of Electronic Pain Killer, which is designed and developed with utmost precision. A unique pain management tool, it works as a muscle relaxant that helps to sooth the pain. Extensively used for pain management, this range is manufactured as per industry laid parameters such as FDA. Stimulating the nerves and blocks pain signals, this range generally relieves pain from arthritis. In addition to this, Electronic Pain Killer can be availed from us in various sizes and grades to effectively relieve pain from diabetics and other painful neuropathies.
Features:

It comes with a Hand held device Single Channel
It works on 2 to 50 Hz bi-phasic pulse output
It has 0 to 20 mA stimulation output
It is a Battery operated unit
It can offer the ultimate relief in all pains which occurs due to nerve disorders like migraine head ache, low back pain, head ache and diabetic neuropathy pain

Other Details:

The Electronic Pain Killer T.E.N.S. (Transcutaneous Electrical Nerve Stimulation) is an exclusive pain management device that also performs as a muscle relaxant. The therapy then also uses mild electrical impulses for the management of pain as an alternative for the conventional drugs. The therapy is permitted by FDA and is protected by many insurance carriers. It is well recognized as a secure and consistent pain management system which has been utilized for decades in USA.

The TENS Therapy moderately arouses the nerves and blocks pain signals before they can be acknowledged by the brain. The TENS Therapy is in general used to release and get rid of the severe back pain, but also many kinds and causes of pain may get benefitted from it, which also includes the painful arthritis. Many scientific literature and researches exhibits; that the electronic pain reliever T.E.N.S. is an efficient pain relieving therapy for the diabetic and other painful neuropathies.

The 1965 Gate Control Theory shaped a great popularity of TENS
TENS has 50% to 80% efficiency rate
TENS also helps stimulates afferent sensory fibres to provoke the production of neurohumneral substances such as endorphins, enkephalins and serotonin (i.e. gate theory)
The Paresthesia is formed without the motor response
A Beta filers are encouraged to SG enkephlin interneuron (pure gate theory)
It also helps creates the quickest relief of all techniques
It is applied at the duration of 30 minutes to 24 hours

Features:

T.E.N.S. - I:

It comes with a Hand held device Single Channel
It has a Battery operated unit
It has 2 to 50 Hz bi-phasic pulse output
It has 0 to 20 mA stimulation output

T.E.N.S. - II:

It has a Table top hospital model
It has a Dual patient output with adaptable or changeable strength
It comes with a Built in or already fitted timer
It has Multiple modulation technique to help enhance the therapy
It comes with a 2 to 120 Hz bi - phasic pulse output
It has 50 to 500 micro sec adaptable pulse widths
It has 0 to 30 mA stimulation output
Trade Information
AS PER REQUIREMENT Per Month

1 Week